Corporate & Social Gatherings
Corporate & Social Gatherings
Book Now
---
The Vista Fleet is the perfect place for team outings in Duluth. We leave boring meetings, team building activities and retreats in our wake. We offer easy to coordinate packages for any size team so you and your co-workers can have fun, bond as a team, and relax. Treat your employees, guests, co-workers or clients to an incredible on-the-water experience. Endless lake views provide the perfect backdrop that they'll remember for years to come. The Vista Fleet allows you to please everyone, every time, with custom designed corporate meetings and events in Duluth. Breakfast, afternoon tours, after-hours cocktails, or a full scale dining experience aboard the Vista Fleet will provide your guests with the casual elegance they deserve.
Our intimate private charter boat, the Vista Queen, is available for small groups. Our basic cruises are 1-1/2 hours in length and the time is generally flexible. The vessel can accommodate a maximum of 42 passengers for a sit down dinner charter or up to *50 passengers for a charter reception (*weather permitting).
The Vista Star is the largest of our fleet and can hold up to 220 guests for a reception or 125 for a sit down dinner. It has 3 decks, 2 of which are enclosed. In addition to private full boat or deck charters, this vessel also provides our daily grand sightseeing cruises as well as our cocktail cruises and evening dinner cruises.
We are a proud partner of 2 fantastic preferred caterers , Catering by Bellisio's and the MidCoast Catering.
Personalized Events & Charters
We are more than happy to customize a cruise for your upcoming team outing or employee engagement activity. Our staff is ready to make any event the best it can possibly be. Interested in a quote? Please fill out our simple event inquiry form or email [email protected] and we can help fit the perfect event within your budget.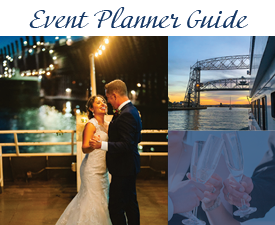 Download PDF ›